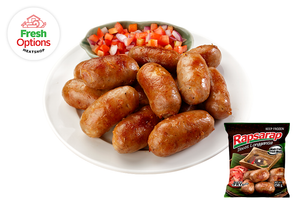 I like ilocos longganisa
Taste good, reasonably priced, packaged is good for 2-3persons.
Thank you so much for your feedback, Cosette. We're pleased to know you liked the taste of our product. Keep safe, Ka-Freshie.
Meat not tender
The taste was good but the meat was not tender even though I took the time to cook it. I even boiled it before frying.
We appreciate your feedback, Sheila. If you still have the packaging of the product, kindly send a photo of its best before date to freshoptions@rdfmeatshop.com or m.me/freshoptions. We'll forward your concern to our product development team to make this right. Thank you for helping us improve, Ka-Freshie! Keep safe.