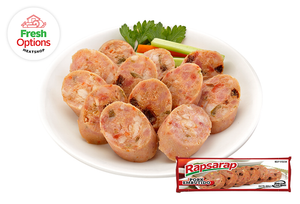 Embutido-Pork Party Size 500G
Pork embutido
Naawa ako sa embutido pagkadating di na nkapasok sa ref, dretso na luto dahil wala kame ulam hehe. Grabe worth it ung pag aantay namin ansarap po promise. Order po ulit kme kapag my budget.
Best Options @ Fresh Options
I havent tried the embutido yet.
But weve tried the fried wanton and lumpia chicken, we loved it! So far, good... thanks!
Thank you for sharing your thoughts, Florabelle! It's our pleasure to serve you the best meat products out there. Feel free to send us a feedback on our embutido once you've tried it. Stay safe.
Taste Good
Taste Good.. and big serving 500grams...