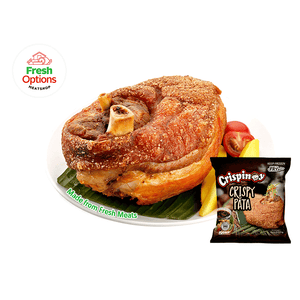 Surprisingly different
It was on promo for b1t1 so i figured I might just as well order it. Didn't expect much from this product since the usual crispy pata tends to be oily and salty with more bones than meat. This is surprisingly different in that the meat when chopped was more than what I'd get from restaurants when ordered. It also had more meat than fats. Airfrying from frozen worked too. Will definitely order again.
Crispy Pata
It's our favorite. Crispy and juicy without the long hours of preparation and frying. I roast it in the oven to save on oil.
CRISPY PATA
VERY CONVENIENT TO COOK. CRISPY SKIN AND MOIST MEAT. AIRFIRED THE PATA.