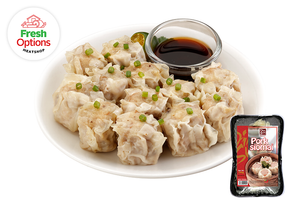 Really Good
Fast Delivery and great product. Products are in good condition!
Thanks for this amazing review, Domelyn! It's our pleasure to serve freshness straight to your doorstep. Looking forward to deliver to you again. Keep safe.
Siomai
Less for the price and quality
Your review is very much appreciated, Q. We'll forward your feedback to our preduct development team. Thank you so much for helping us improve.
Good taste and quality.
My kids loves siomai but it's hard to find one with good quality (means it should be meaty, looks fresh and not full of extenders). This siomai satisfies what I'm looking for.
Delicious and Great Staff!
I already ordered couple of time and Siomai is always on top of my list because it is really tasty and yummy. Their staff is also awesome. I got a missing order but they made sure it was given to me the next day. Will be ordering again definitely.