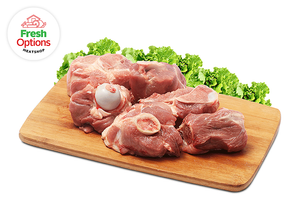 Legit na fresh ang meat! Nice packaging, fast deliver & super assist ka ng seller! Thank you..
Price posted is different from the final bill
The price vary per item and the final bill at the website does not reflect the total amount that will be collected when the items get delivered. Instead of paying 2700 I had to pay the rider 3200 that php500 more because of wrongly priced items and items that I did not ask to be added. While the product is good, there is the issue of deceiving your customers. How upsetting.
Pork siningang cut
The meat part was so small mostly are bones ..so dissapointed with my order never to buy pork sinigang cut again.
We appreciate you letting us know about your concern and for accommodating our representative, Marietta. Rest assured that we'll continue to strive to get better. Thank you for helping us!
We appreciate your review, Jhai! Thanks for shopping from us. Rest assured that we'll continue to provide you with high-quality products and service. Stay safe always, Ka-Freshie.