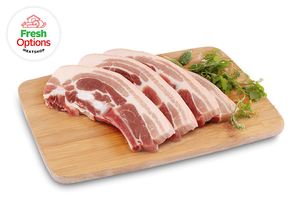 Pork country style 500g
As always OUT OF STOCK! Walang delivery daw...sna nman mag deliver kyo palagi ng Liempo! But they asked me what item to be replaced I chose Pork Steak instead. The delivery is super ok and the rider is friendly and respectful and even the store manager. Just the meat supply lang ang problem para sa akin.
Poor service! Item didnt arrive
Didnt receive almost all my orders including this pork country style you are asking me to rate. Poor service! Delivery went here charging me my whole order even if 4 bags only were delivered. Fresh options agreed to bring missing items but never came. Nobody responds to email or calls. Very poor service! So disappointing!
I never got my order
FOO41530 was confirmed 3 days ago, but I never got my order. No text message to let me know whatsoever