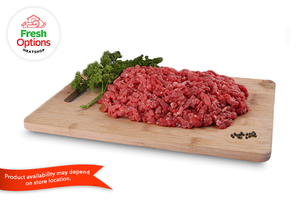 Not fresh
When the beef arrived the color is very dark red almost dark brown,not an indication of freshness! Possibly going in and out of frozen state there's no more blood left. There was also an off smell like "nakulob". Disgusting! Never gonna order from you!
Time management
Time management isnt good unfortunately. No offer of free dilevery slots. And I am not willing wait 2 whole days the delivery. Better to offer a direct delivery time when ordering.
Fresh Beef ground round
The beef ground round I ordered is so fresh that brought umami flavor to the dish
Fresh Meaty Beef
Love your ground beef round. Juicy, meaty, without fat so it's much healthier o serve to my family. Health wise, compared to other supermarket brand.